Cookie preferences
This website uses cookies, which are necessary for the technical operation of the website and are always set. Other cookies, which increase the comfort when using this website, are used for direct advertising or to facilitate interaction with other websites and social networks, are only set with your consent.
These cookies are necessary for the basic functions of the shop.
"Allow all cookies" cookie
"Decline all cookies" cookie
Customer-specific caching
These cookies are used to make the shopping experience even more appealing, for example for the recognition of the visitor.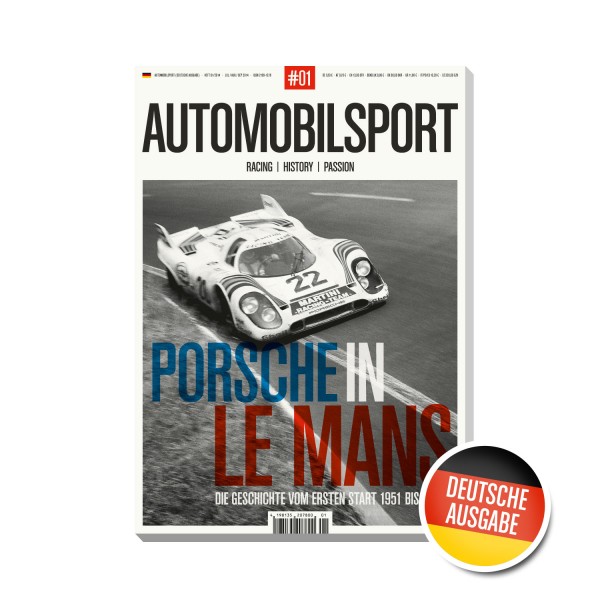 This product is currently not available.
Erster Porsche-Werkseinsatz seit 16 Jahren. Zeit zum Vorwärtsschauen, Zeit aber auch zur...
more
AUTOMOBILSPORT #01 (01/2014) – German Edition
Erster Porsche-Werkseinsatz seit 16 Jahren. Zeit zum Vorwärtsschauen, Zeit aber auch zur Rückbesinnung. Deshalb diese Sonderausgabe — und dazu die Ausgabe Nr. 1 des neuen Magazins AUTOMOBILSPORT. Das neue Magazin fühlt sich dem Geist von powerslide verpflichtet; eine Philosophie, die sich anhand der Porsche-Geschichte bei einem der großen Klassiker des Automobilsports prächtig transportieren lässt. Also hier: Porsche in Le Mans! Der ehemalige Porsche-Rennleiter und -Renningenieur Peter Falk beschrieb es im Gespräch mit Herbert Linge, Egon Alber und uns sehr genau: "Wir konnten nur so erfolgreich sein, weil wir eine eingespielte Mannschaft hatten, in der sich jeder auf den anderen verlassen konnte. Wir waren zusammengewachsen und haben zusammengehalten, das macht einen großen Unterschied." Mit diesem stetig gewachsenen und immer erfahreneren Rennteam reiste Porsche seit dem ersten Einsatz 1951 Jahr für Jahr an die Sarthe. Die unsäglichen Anstrengungen der Mechaniker, Fahrer, Ingenieure und Helfer (Herbert Linge: "Mehr als eine Stunde Schlaf zwischen den Reifenstapeln in unserer Box am Stück war selten möglich") wurden immer wieder mit Erfolgen belohnt.
Mit jedem Sieg setzte Porsche auch Meilensteine in Le Mans. Auf das Porsche-Konto gehen: 16 Gesamtsiege (1970, 1971, 1976, 1977, 1979, 1981, 1982, 1983, 1984, 1985, 1986, 1987, 1994, 1996, 1997 und 1998), davon zwei Gesamtsiege (1970 und 1971) des Porsche 917 in der Zeit der großen Sportwagen-Rennen, außerdem unter anderem der erste Heckmotor-Sieg mit dem Porsche 935 K3 Turbo, Gruppe 5 (1979) und der erste Gruppe C-Sieg mit dem 956 (Dreifach-Erfolg, zusammen mit zwei 935, bei den IMSA GTX vorn, sogar ein Fünffach-Erfolg 1982). Wie wichtig ein derart eingespieltes, verlässliches und motiviertes Team ist, haben auch wir bei der Produktion dieser AUTOMOBILSPORT-Erstausgabe wieder einmal erlebt. Es war — sozusagen aus dem Stand — da und hat wie selbstverständlich dieses 160-Seiten-Heft "angeschoben".
Wir konnten auf Menschen zählen, die generationenübergreifend den Geist von fünf Jahren powerslide, aber auch die Erfahrung aus vielen Jahrzehnten professionellem Motorsport-Journalismus vereinen, und die alle eines gemeinsam haben: mindestens 100 Oktan im Blutkreislauf. Urgesteine unter den Motorsport-Journalisten wie Karl Ludvigsen, Uwe Mahla, Eckhard Schimpf oder Helmut Zwickl haben dem Thema mit ihren unerschöpflichen Erinnerungen durch Texte und Bilder wieder Leben eingehaucht. Porsches Motorsport-Heroen, ehemalige Ingenieure, Mechaniker und Rennfahrer wie Peter Falk, Norbert Singer, Wolfgang Berger, Walter Näher, Jürgen Barth, Egon Alber, Herbert Linge, Roland Kussmaul, John Fitzpatrick und viele mehr standen uns geduldig mit Wort, Rat und Tat zur Seite.
Dafür bedanken wir uns sehr herzlich und hoffen, dass wir Ihnen mit dem Ergebnis Freude an einem sehr speziellen Kapitel der Motorsport-Historie bereiten.
Denn eines verbindet Sie und uns: die Liebe zum Automobilsport.
Dem Heft liegt ein gefalztes Poster bei.
| | |
| --- | --- |
| Language: | German |
| Number of pages: | 160 |
| Dimensions: | 210 x 297 mm |
Related links "AUTOMOBILSPORT #01 (01/2014) – German Edition"
8 KLASSENSIEG – DARAUF HÄTTE NIEMAND GEWETTET – Porsches erfolgreiche Le Mans-Premiere 1951 12...
more
8 KLASSENSIEG – DARAUF HÄTTE NIEMAND GEWETTET – Porsches erfolgreiche Le Mans-Premiere 1951
12 PORSCHE-QUARTIER TELOCHE
22 HERBERT LINGE – Vom Lehrling zum Vater des Entwicklungszentrums in Weissach
26 LE MANS 1969 – Zum Sieg fehlten nur Meter
40 KARPFEN IM HECHTTEICH – Der Sonauto 914-6 GT in Le Mans 1970
42 ENDLICH, PORSCHE-SIEG IN LE MANS – Backgroundstory über die Siegesserie der 917er
54 AUSGLEICHENDE GERECHTIGKEIT – Hans Herrmann mit Porsche in Le Mans
58 MIT STEVE MCQUEEN IN LE MANS – Alles andere als Filmalltag
62 RICHARD ATTWOOD UND DER 917 IN LE MANS
64 "WENN IHR SO WEITER MACHT, HABT IHR BALD KEINEN FÜNFTEN GANG MEHR" – Dr. Helmut Marko und der Le Mans-Sieg 1971
68 IM SANDWICH VON MATRA GLÄNZT EIN TURBO – Der 911 Carrera RSR Turbo
70 "ICH WÜNSCHTE ICH WÄRE JÜNGER, UM MIT PORSCHE WIEDER SIEGEN ZU KÖNNEN
72 300 KM/H UND EINE TASCHENLAMPE LEUCHTET DEN WEG – Le Mans 1975 im 908/03 mit Jürgen Barth
74 EINE EINDRUCKSVOLLE BILANZ – Gijs van Lennep und Porsche in Le Mans
76 ENTWICKLUNG EINES LE MANS-SIEGERS – Der Porsche 936
94 SECHS GESAMTSIEGE, DAVON VIER AUF PORSCHE – Monsieur Le Mans – Jacky Ickx
98 BESSERE AERODYNAMIK: SCHNELLER IN LE MANS – Porsche 935/78 "Moby Dick"
100 GRUPPE 5-GLANZSTÜCK IN LE MANS 1979 – Sieg des Kremer-935 K3 1979
109 LE MANS-EINSATZ UND VIERTE GESAMTPLATZ 1979 IM EIGENEN PORSCHE 934
110 AUCH PORSCHE KANN MIT WASSER "KOCHEN" – Porsche 924 Carrera GTR mit Tony Dron
112 ERFOLGSFORMEL IN DER GRUPPE C: PORSCHE 956 UND 962
122 LUDWIGS LUST UND FRUST IN LE MANS – Die Hassliebe des Dreifachsiegers Klaus Ludwig
124 HANS DAMPF IN ALLEN GASSEN – Die Lange Karriere des Hans-Joachim Stuck
126 LE MANS-ABONNENT DEREK BELL
130 ALLRAD-STAR IN LE MANS – Die kurze Karriere des Porsche 961
132 MEHR SERIENNÄHE GEFRAGT – Der Porsche 911 Carrera RSR 3.8 in Le Mans
134 SCHLAGKRÄFTIG UND ZUVERLÄSSIG – Der Porsche 993 GT2
136 EIN DOPPEL MIT JOEST – Der offene TWR-Joest WSC Spyder
142 PORSCHES BISHER LETZTER GROSSER LE MANS-TRIUMPH – Der GT1 verabschiedet sich mit einem Doppelsieg
146 NEUN KLASSENSIEGE IN 14 RENNEN – Die Erfolgsgeschichte des 911 GT3 in Le Mans
148 KURZ ABER ERFOLGREICH – Die Ära des Porsche RS Spyder in Le Mans
150 WOLFGANG HATZ ÜBER DAS AKTUELLE PROJEKT – 919
154 LE MANS-STATISTIK
Read, write and discuss reviews...
more
Customer evaluation for "AUTOMOBILSPORT #01 (01/2014) – German Edition"
Write an evaluation
Evaluations will be activated after verification.